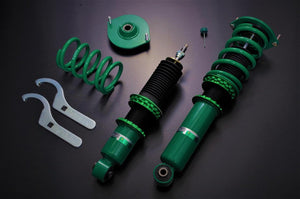 1990-2005 NA/NB MAZDA MIATA TEIN COILOVERS- FLEX Z
Regular price $1,083.00 $950.00 Sale
TEIN Flex Z Coilovers are the latest generation of coilovers out of their factory in Yokahama. The difference with Flex Z is that you are getting a coilover that would normally cost double the price. The new manufacturing systems that TEIN has put in place with this coilover have allowed them to produce these coilovers at lower prices and pass those savings on to you. Quality and performance remain a top priorities. TEIN builds these Flex Z coilovers with the highest standards in Yokohama, Japan making these a true Japanese coilover.
TEIN Flex Z coilovers have a twin-tube internal system that gives you one of the best street rides from any coilovers. In addition, the full-length height adjustment system enables you to lower the car to the max allowable level and still maintain the same shock travel and ride quality.
TEIN Flex Z coilovers are 16-way dampening adjustable (compression and rebound together) so you can make the ride stiffer or softer depending on what sort of ride quality you are wanting. For example, you can set the dampening to a low setting for when you are daily driving the car and set it up to a stiffer setting for track days or spirited driving.
TEIN takes pride in their products and each one is built to be the best quality possible. TEIN coats each Flex Z with "ZT Coating" that prevents rust and has multiple layers to ensure the best finish. These coilovers include upper mounts for each installation.
TEIN Flex Z Coilovers Specs and Features:
Made in Yokohama, Japan
16 Levels of damping force adjustment
Twin-Tube for Comfortable Street Ride
Full-Length System for Height Adjustment with minimal change in ride quality even at the lowest setting
EDFC Compatible (uses M12-M12 Motors)
Includes Upper Mounts for Easy Installation (some vehicles use OE mounts)
Includes Dust Boots (some vehicles use OE dust boots)
TEIN Quality for durability, reliability, and rust proofing
No-Sag Springs
Spring Rates:
Front: 7
Rear: 6
**Item may vary from photo, manufactures image used**